Immagini del colore. Marcia Hafif in primo piano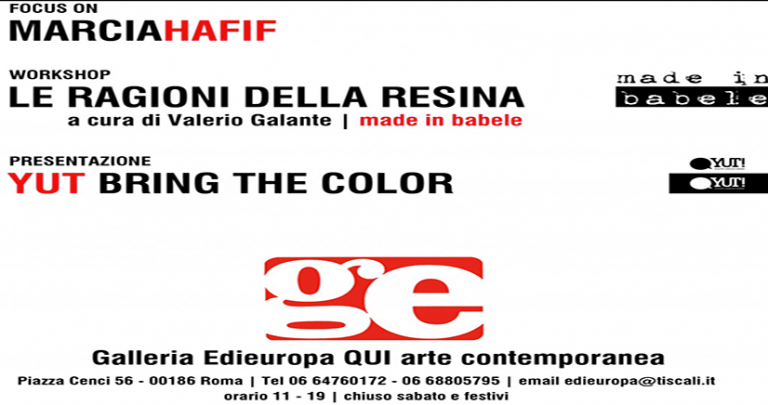 Carla Accardi   Giulio Turcato
Workshop 
Le ragioni della resina
a cura di 
VALERIO GALANTE ׀ MADE IN BABELE
"In Galleria l'esposizione delle opere di Carla Accardi, Giulio Turcato e Marcia Hafif, che negli anni sessanta viveva a Roma e insieme partecipavano attivamente alla vita culturale della città."
La Galleria Edieuropa presenta nell'ambito della mostra "Immagini del colore, Carla Accardi, Giuli Turcato – Primo piano su Marcia Hafif", un workshop dedicato alle possibilità espressive delle resine, a cura di Valerio Galante – Made in Babele. Nell'ottica di sperimentare per conoscere, l'incontro verterà sulla realizzazione ex tempore di una superficie in resina a cui i partecipanti assisteranno attivamente.Nella stessa giornata si svolgerà a cura dell'Associazione YUT, Bring the Color, un'iniziativa di più ampio respiro che vede coinvolti artisti di Urban Art, creazione di opere d'arte permanenti legate al colore. Bring the color si concluderà con lo Stay YUT Color Festival che quest'anno punterà a coinvolgere almeno 6000 giovani in un divertimento sano e consapevole.

In Galleria l'esposizione delle opere di Carla Accardi, Giulio Turcato e Marcia Hafif, che negli anni sessanta vivono a Roma e insieme partecipano attivamente alla vita culturale della città. Di Marcia Hafif, Carla Accardi, nel 1997, scrisse una bellissima presentazione alla sua personale in galleria: "con lei ho trovato subito delle particolari affinità……., ricordo i grandi quadri con le nuvole e il fascino dei monocromi lavorati anch'essi su grandi dimensioni".

Il 12 aprile del 1967, con la mostra "Immagini del colore, Accardi, Hafif, Turcato", curata da Marisa Volpi, si inaugurava la prima sede della Galleria, a Via del Corso 525.

Nata inizialmente come sede della rivista QUI arte contemporanea, pensata e voluta da Capogrossi, Colla, Leoncillo, Fontana Pasmore e Sadun, era diventata un luogo d'incontri, dibattiti, conferenze, sui vari temi dell'arte contemporanea d'avanguardia.

Erano gli anni dell'esplosione del colore, in America, in Inghilterra, in Francia, la televisione a colori era la grande rivoluzione. Ci si aspettava un mondo pieno di progressi sociali, un futuro brillante.

Oggi, proseguendo il nostro lavoro di recupero della memoria, riproponiamo i tre grandi artisti che ci hanno sempre accompagnato in questi anni, con un ricordo speciale per Carla Accardi, sperando di colorare un pò questo oscuro presente. Nella mostra abbiamo selezionato, circa trenta opere tra tele, sicofoil e disegni, principalmente degli anni sessanta e settanta, oltre a qualche opera più recente.

Di Marcia Hafif, in questo periodo dall' 11 giugno al 14 settembre 2014, nelle Grandes Galeries di Villa Medici, si possono ammirare le sue opere, nella mostra collettiva La pittura o Come sbarazzarsene, curata da Éric de Chassey. L'esposizione riunisce le opere di quattro artisti di diversa nazionalità: l'italiano Fabio Maurie l'americana Marcia Hafif – che hanno vissuto e lavorato a Roma – il francese Martin Barré e lo svizzero Olivier Mosset – che abitarono a lungo a Parigi. Le opere esposte ripercorrono tre periodi fondamentali del percorso artistico di questi artisti e della storia dell'astrazione: una pittura astratta volta alla scomparsa delle forme e dei colori, opere concettuali o performative, realizzate in particolare attraverso il film o la fotografia; dipinti astratti che rimandano a una pittura dopo la fine della pittura.