start '18 – Festa Internazionale della Scultura Contemporanea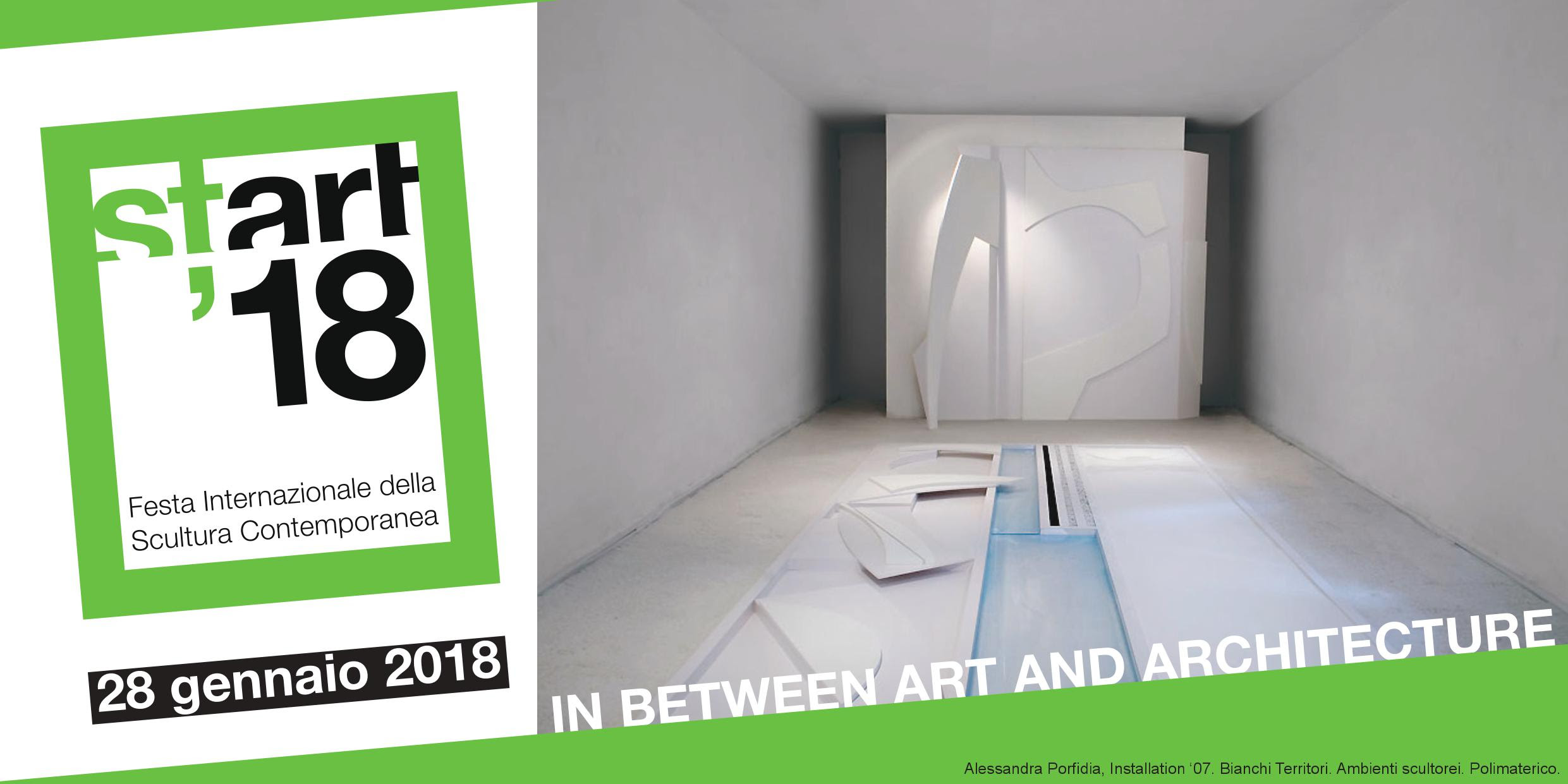 La Galleria Edieuropa, Alessandra Porfidia e VALLE3.0 sono lieti d'invitarvi a START'18 – Festa Internazionale della Scultura Contemporanea.
Domenica 28 gennaio 2018, dalle ore 11.00
Quest'anno il tema del progetto artistico internazionale, sarà "IN BETWEEN ART AND ARCHITECTURE" – e a prendervi parte saranno 30 studenti delle Accademie di Belle Arti di Firenze e di Roma rispettivamente a cura delle docenti di Scultura Alessandra Porfidia e Patrizia Bisonni.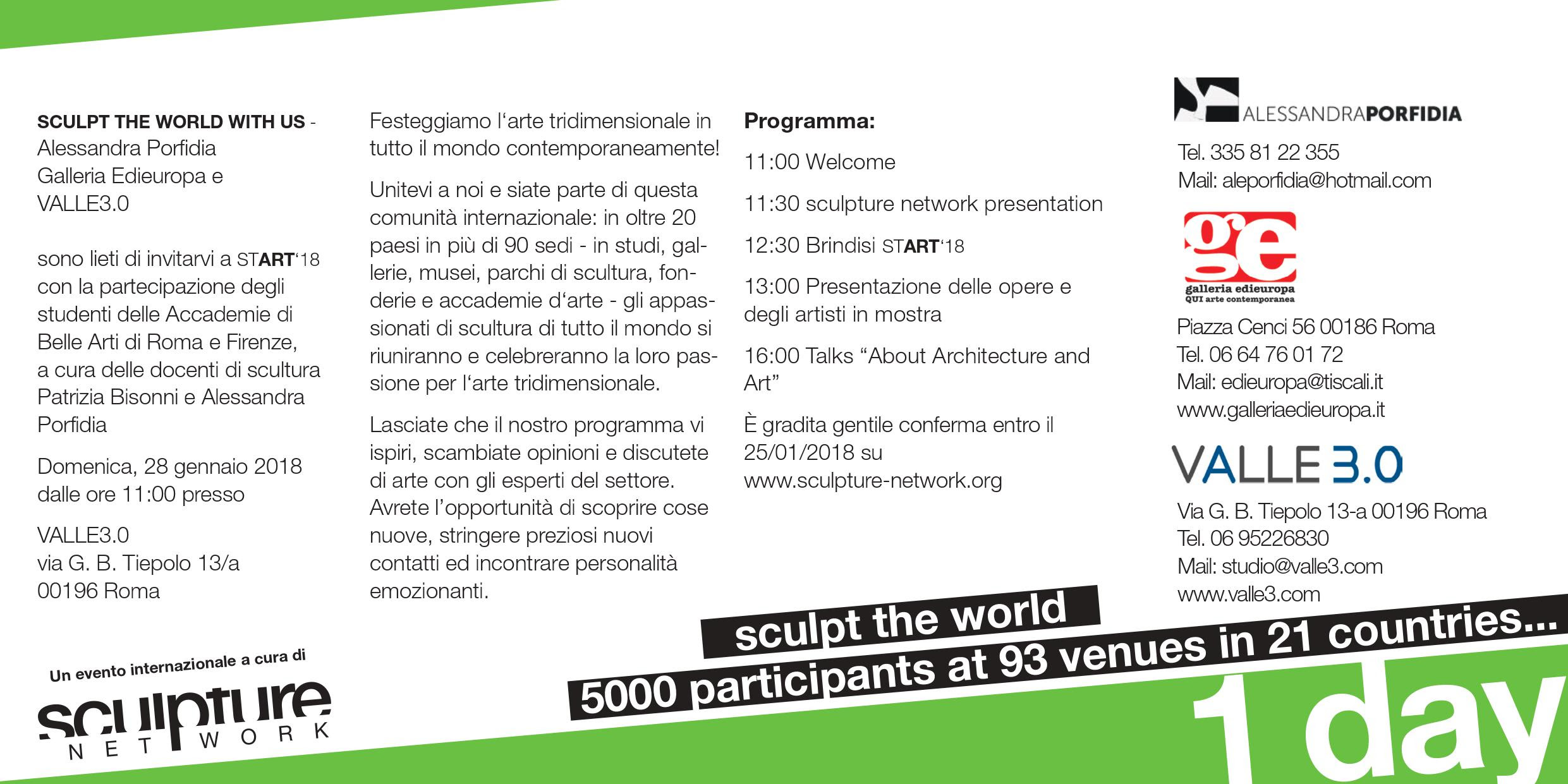 Location d'eccezione per l'evento romano di Sculpture Network, che quest'anno si svolgerà durante l'intera giornata di domenica 28 gennaio 2018, a partire dalle ore 11.00, è lo Studio d'Architettura VALLE3.0, nell'ex Politecnico di via Tiepolo a Roma, uno spazio dove si crea lo spazio in cui si vive.
Aprirà questo incontro della giornata internazionale di scambio ed approfondimento sulla scultura il Direttore dell'Accademia di Belle Arti di Firenze, l'Architetto Claudio Rocca, con un intervento incentrato sul tema di quest'anno: "IN BETWEEN ART AND ARCHITECTURE".
Seguirà il collegamento e la proiezionein simultanea dalle varie sedi internazionali partecipanti al progetto, un'immersione nel mondo dell'arte tridimensionale – Sculpture Network, infatti, unisce 95 sedi in 21 paesi per la nona edizione del Festival internazionale della scultura contemporanea.
Oltre agli interventi dei ragazzi delle Accademie, in mostra con progetti, installazioni, sculture e video, saranno esposte le opere di Alessandra Porfidia, realizzate per l'occasione, in dialogo con quelle di Massimo Catalani, appartenenti al ciclo sull'Architettura.
A completare l'evento espositivo, seguirà alle ore 16.00 un Talkaperto, coordinato dall'architetto Emanuela Valle, a cui prenderanno parte anche Carlo Prati, architetto e artista, Luciano De Fiore, docente di filosofia moderna alla Sapienza di Roma, con un intervento sul tema del "Vuoto e l'Architettura" e Raffaella Bozzini della Galleria Edieuropa.
La giornata  si concluderà sulle note del cantautore Vasco Barbieri.
Il fine del dibattito, così come dell'intera giornata di studi sulla Scultura e sull'Architettura, è quello di collegare le molteplici esperienze dei vari soggetti partecipanti e metterle in relazione, eliminando i confini fisici e non del luogo in cui sono in atto.
Si ringrazia Graniti Fiandre per la collaborazione.
VALLE3.0
via G.B. Tiepolo 13a, ROMA




Piazza Cenci 56, 00186 ROMA 06 64760172 edieuropa@tiscali.it