Urban Arena – Macro Roma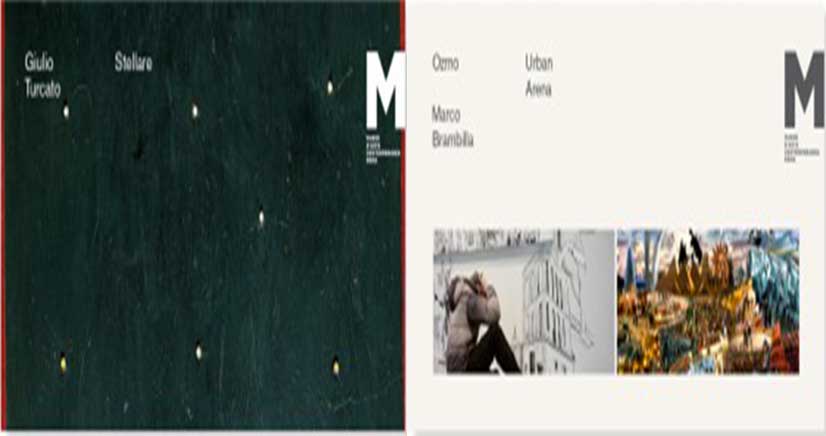 "In occasione del centenario dalla nascita di Giulio Turcato (1912–1995), il MACRO, in collaborazione con l'Archivio Giulio Turcato, celebra nella sezione espositiva "Omaggi" — programma dedicato ai protagonisti che hanno formato le radici storiche dell'arte contemporanea — uno dei maggiori protagonisti del secondo Novecento italiano con una mostra che restituisce circa un ventennio di produzione dell'artista (1950 -1975)."
venerdì 5, sabato 6 e domenica 7 ottobre 2012
Ozmo
"Voi valete più di molti passeri"
Giulio Turcato
Stellare
a cura di Benedetta Carpi De Resmini e Martina Caruso
Il MACRO presenta il secondo intervento nell'ambito di Urban Arena, progetto ideato in più tappe per dare visibilità alla Street Art, una sorta di palestra dove gli artisti possono misurarsi con gli spazi aperti del museo e con superfici mai utilizzate. Accanto alle opere di Bros e Sten e Lex – protagonisti del primo appuntamento di Urban Arena — compariranno quelle di Ozmo, street artist italiano tra i più attivi e riconosciuti a livello internazionale, e Marco Brambilla, artista e regista canadese di origini italiane. Il lavoro di Marco Brambilla sarà visibile al pubblico venerdì 5, sabato 6 e domenica 7 ottobre 2012.
Gli interventi di Ozmo e Marco Brambilla sono realizzati in collaborazione con la Galleria Edieuropa QUI arte contemporanea e lo Studio Fabio Mauri, Associazione per l'Arte L'Esperimento del Mondo.
Per l'immagine sull'invito:
Ozmo Il PreGiudizio Universale, 2012 work in progress, Museo del Novecento, Milano Foto Giulia Ticozzi/Il Post
Marco Brambilla, Evolution (Megaplex), 2010 still da video Courtesy l'artista | the artist e | and Christopher Grimes Gallery, Santa Monica
Artisti in residenza: Studio in Progress
Julieta Aranda, Giovanni Giaretta, Francesca Grilli e Hiwa K
Il MACRO apre al pubblico gli studi di Julieta Aranda, Giovanni Giaretta, Francesca Grilli e Hiwa K, artisti vincitori del secondo ciclo del programma Artisti in residenza. Studio in progress è una delle tappe del programma Artisti in residenza avviato dal MACRO nel gennaio 2012 e rappresenta la prima occasione di apertura al pubblico dall'arrivo dei residenti al museo durante il quale sarà possibile entrare in contatto diretto con gli artisti stessi e il loro lavoro. Gli studi degli artisti saranno aperti venerdì 5 e sabato 6 ottobre 2012.
Per le immagini sull'invito:
Julieta Aranda
Two shakes, a tick and a jiffy
Coated steel, Plexiglass, 24 hours of electrocardiography data, and operating mechanism Photograph by Kristopher McKay © The Solomon R. Guggenheim Foundation, New York. 2009
Giovanni Giaretta
Le sport et les hommes
Materiale di ricerca Santander, 2012
Francesca Grilli
THE CONVERSATION
installazione 600 palloncini, struttura in legno trattata con sale, 4 casse sonore, audio track 14'40"
Hiwa K
Nazhad
Fotografia di Diary M. Othman Courtesy l'artista 2008 – in corso